Updates - August 2021
Welcome to the Friendliest.app's monthly updates!

This month we published our fourth major public beta release. 🚀 In addition to several small enhancements, this month's release includes two major changes, a complete overhaul of our Events support and the first expansion of our allergies and dietary needs tracking - Plant-based Meals! 🎉
Events
Events were a day-one feature, but as there have not been any food events since A Touch of Disney prior to the resort reopening, our Events support has been woefully neglected.

Now that we have the Oogie Boogie Bash and its add-on event the Sonoma Terrace Oogie Boogie Bash Dessert Party both just a few days away, it seemed like a good time to add some polish.




The Events page was overhauled and now displays Current, Upcoming and Past Events. The Events template was also updated to support additional event information and bring the theming inline with the rest of the Friendliest.app.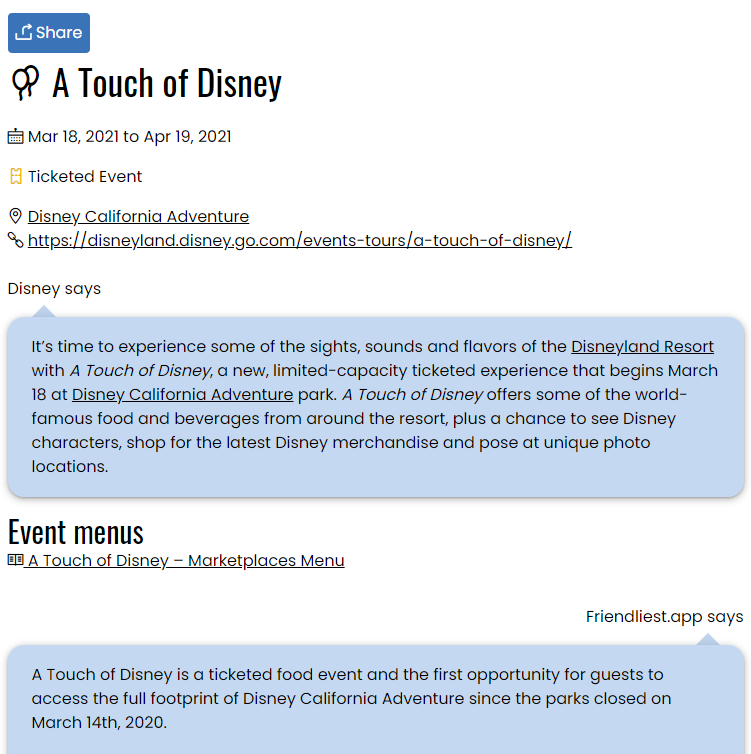 Plant-Based
We've received a steady stream of requests since our first beta launched tot support additional allergies or dietary needs.

This month we added support for Plant-Based dietary needs!

Disney defines Plant-based as made without:
animal meat
dairy
eggs
honey
We are indexing both items that are part of Disney's official Plant-based offerings, like the Impossible Chili Waffle Fries at Smokejumpers Grill and unofficial items where we can confirm the full ingredient list meets Disney's Plant-based definition, like the Dole Whip.



We are also taking care to identify conflicts between Plant-based items and other food allergies. For example, we've separated out the Plant-based Classic Impossible Cheeseburger and the Allergy-friendly Classic Impossible Cheeseburger at Hungry Bear Restaurant since the Allergy-Friendly Bun used in the latter contains Eggs, making it no longer Plant-based friendly.

Friends who have created an account can now set Plant-based as a dietary need, along with any food allergies in their user settings.




The Allergies Filter, now called the Meal Filter, has also been updated to include filtering for Plant-based items.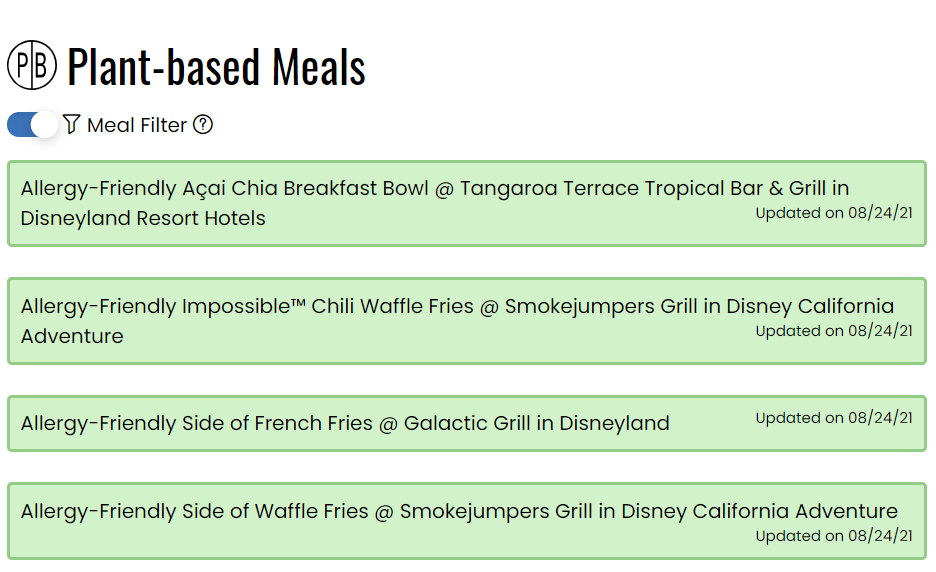 We currently have 34 menu items indexed as Plant-based and are adding more daily.
Misc Updates
The Archives keep growing! Exactly four months after the Disneyland Resort reopened, 63 Menus have already been replaced. Archived Menus and Meals can be found under their respective Restaurants. The most recent archives are also listed on the main page.




In addition to the Recent Archives, we've made a few other minor updates to the main page this month. The 'Browse by…' section has been updated to include Events and the Introduction Text is no longer displayed to signed-in friends.

That's all for this month. Have a safe and magical September!
Posted by Kevin Williams | Tuesday, August 31, 2021