Updates - July 2021
Welcome to the Friendliest.app's monthly updates!

For July, our time was split between small refinements and trying to keep up with all the restaurant reopenings! At the time this was written (July 29th, 2021), every restaurant in Disney Californa Adventure has reopened except for Boardwalk Pizza & Pasta. Disneyland is down to the last handful, which includes Carnation Cafe, Troubadour Tavern and Royal Street Veranda.
Content
We added 13 restaurants that reopened in the last month, starting with the Hungry Bear Restaurant which reopened on July 1st and ending with the Golden Horseshoe that reopened today, July 29th.

Over the last month we also added 66 new allergy-friendly meals and items, bringing us to 310 as of today! Like we mentioned last month, you can follow along with our growth using our data tracker.
Sharing
We've written a social media sharing button and integrated it into our Meals, Restaurants and Blog Posts. If you want to share some Friendliest.app content (and we hope you do), it can now be easily done over Facebook, Twitter and Reddit!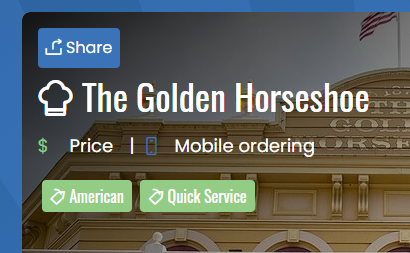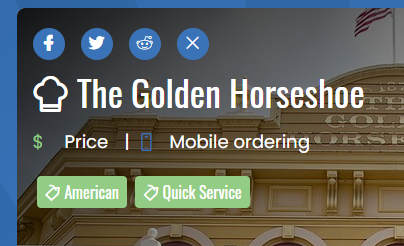 Archive Notes
Building upon our archive work last month, we've now introduced archive notes. When you view an archived Restaurant, Meal or Menu, there is now a description of why it was archived and/or what it was replaced with. This is an attempt to continue to preserve historical Disneyland food information.

You can see some examples of this already, like Trader Sam's opening day menu, which has already been replaced by a new menu which includes increased prices and changing the Shrunken Zombie Head cocktail to remove the culturally insensitive name.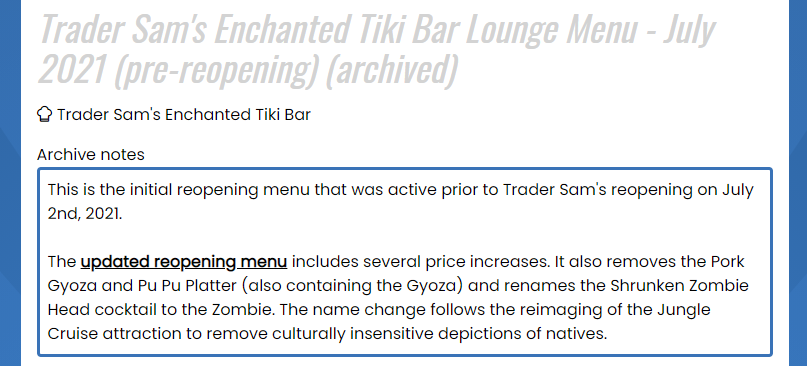 This information is all preserved in the Menu's archive notes.
More Easter Eggs!
As we do with all updates, we've hidden another Easter egg or two around the Friendliest.app. You might find one of them in the same land where you will also find an attraction that has a movie releasing tomorrow…
Boring Nerd Stuff
We also did a bunch of boring nerd stuff, mostly around reducing bloat in our application by consolidating code. We also implemented a public uptime page where you can see our uptime performance and outage history.

That's all for this month. We hope you all have a safe, magical August!
Posted by Kevin Williams | Thursday, July 29, 2021